Getting Started
ACAD_db makes it possible to synchronize block attribute data between AutoCAD and a Database.
After some setting up procedures, you can establish a connection between your drawings and a Database file. Then, you will have:
Everytime your drawing open, if it is registered, all associated attribute data from Database will be populate to your drawing's blocks. This is AcDbIn process.
Everytime your drawing close, all edited attribute data will be save or update to Database. This is AcDbOut process.
While running AutoCAD, you can run AcDbIn or AcDbOut command to sync attribute data from Database or to Database.
Now, by connecting other tables to ACAD_db Database tables, you can build better BIM Database for your company.
Commands
| Ribbon/Toolbar Icon | Command | Command Description |
| --- | --- | --- |
| | AcDbSettings | Choose an ACAD_Db master database and set up other sync options. This needs to be done once per drawing. Your drawing should be saved after setting. |
| | AcDbMake | Register current drawing to Database to enable sync attributes data. This needs only to be done once per drawing. |
| | AcDbIn | Use this command to force attribute values to get updated from database based on sync dir. |
| | AcDbOut | Use this command to force a sync of all existing block attributes to database. Automatically creates new record in the database for newly inserted blocks and create links between block and database record. |
| | AcDbInsert | Use this command to insert blocks based on database information. |
| | AcDbInsertBySort | Same as AcDbInsert but with sorting of the inserted blocks. |
| | AcDbStatus | Use this command to know the number of block with attributes edited in the current session. |
Usage
ACAD_db consists of following 2 utilities.
You have to go through some setting procedures in AutoCAD and in your Database. The following are general instruction. Please go to detail pages for more information by clicking on above links:
After receiving the license file locate this folder.Replace with your Windows user name where bold. C:\Users\USERNAME\AppData\Roaming\Autodesk\ApplicationPlugins\JTBW-ACAD_db.bundle\Contents\Windows Then copy the license file to the sub folder that correspond to your AutoCAD version or lower.
Open your (My)Documents folder, browse to JTBW-ACAD_DB folder. You will find sample access database and sample drawing file there.
In AutoCAD, run dbConnect command to open Database Connect Manager palette. This is native AutoCAD feature, help you browsing your Data Sources
Create a Data Link (UDL file) in your Data Sources Location folder. A sample DataLink file named ACAD_db_samples - Access.UDL will be found in this folder after ACAD_DB installation.
Run AcDbSettings command to choose that Data Link, hence, choose Database. Sample database is ACAD_db_Samples.mdb which will found in (My)Documents\JTBW-ACAD_DB folder after ACAD_db installation.
Open your Database and create 3 setting tables JTBW_Files, JTBW_SyncDir and JTBW_AttSync. Please see these table's configuration in sample database.
Create a table you wish to store attribute data. Insert field column for each attribute.
Using JTBW_AttSync to define which attribute in which block is going to be synchronized. You also have to define where to store data, how the sync. process works. Sync can run in TwoWay, one way from Drawing to Database, or one way from Database to Drawing.
Run AcDbMake to register your current drawing to Database.
Once settings are done, all change in attribute data in your Database and your drawings will be synchronized. Sync will automatically run at drawing open and save event. For manually running, using AcDbIn, AcDbOut commands.
Another feature of ACAD_db is Insert Block Utility. Use AcDbInsert command to insert all block records in the database into the current drawing.
While ACAD_db is working, the command line will show details of any problems and what data has been synchronized. Here is how tasks and/or errors are reported.
You can get more useful instruction here:
Tips and Tricks when working with JTB ACAD_DB.
Screenshots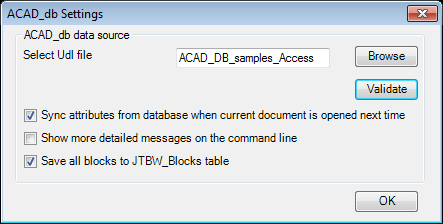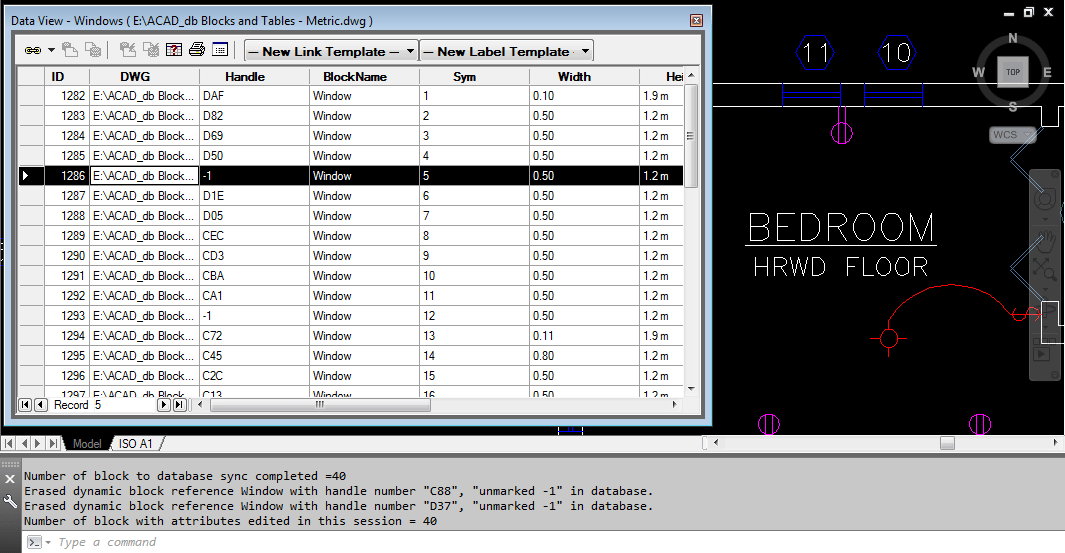 Installation and Uninstallation
The installer that ran when you downloaded this app is a custom installer compiled by JTB World.
To uninstall this app:
1st: Exit AutoCAD.
2nd: To uninstall this app, uninstall as you would uninstall any other app/application/program from your system.
On Windows 10 Version 1703 or later press Windows+I on the keyboard to access Settings or click the lower-left Start button on the desktop to expand Start Menu, and then select Settings in it. Click on Apps.
On Windows 7 / 8 / 8.1 / 10 (older than Version 1703) click Control Panel > Programs > Programs and Features or Control Panel > Add.
On Windows XP click Control Panel > Programs > Remove Programs.
License
You will receive ACAD_db_license.txt license file after purchase this app from JTB World or AutoCAD App Store.
You can contact JTB World via info@jtbworld.com to get the trial license file. Trial license has limit time usage.
Known Issues
JTB ACAD_DB supports any database like Access (MDB) or SQL Server that can be connected with dbConnect within AutoCAD
Other examples are SQL Server Express, Oracle, ODBC, etc. AutoCAD 64-bit does not support 32-bit Access databases.
Compatibility with AutoCAD 2013 up to AutoCAD 2019 including verticals. Newer versions will be supported when they are released and older versions might be supported upon request.

Version History
3.0
2018-04-12: Added support for AutoCAD 2019
1.0
Initial Release: Jan-2015