Draw Steel frames and Steel details with just a few clicks.
General Usage Instructions
|
Install/Uninstall
|
Additional Information
|
Contact
|
Version History
|
General Usage Instructions
Once installed, you will have JTB Steel ribbon on Plug-ins tab. You can call command by clicking to the ribbon or enter command's name at AutoCAD command line. Note: + For AutoCAD 2007 and 2008, only command line is available. + For AutoCAD 2011 and earlier (which does not have AppAutoload feature): run JTB Steel from desktop, click to Help button to open Quick Start window, then click "Add to StartUp Suite".
Commands

JS (JSteel)
Open JTB Steel Draw Palette window.

JST (JSteelTools)
Open JTB Steel Tool Palette window.

JSC (JSteelChange)
Quickly change visibilities of multiple Steel Frames all at once.

ED (JEdit)
This is an enhanced edit command. You can select object of various type to edit, including JTB Steel Section or Frame, AutoCAD text, attribute or dimension text.
See also
Edit Sections and Frames

JMatch
Match JTB Steel object's section property.
JOffsetMove
Move selected objects a specified distance from base line (or curve) to the base's offset direction.

JExplode
Explode inserted blocks to lines and texts without affect colors, layers and linetypes. Attributes will be converted to texts.
JBreakLine
Draw break line. Break line is dynamic block which can change its visibility easily through properties panel.
UP (JUpdate)
Adjust text alignment on Steel Frames. Update annotation height of Steel Frames, break lines and AutoCAD dimensions to current dimension style. Update attribute fields. Update linetype scale settings (at Draw Options) of Steel Frames.
Usage
1. Draw Palette
2. Tool Palette
3. Sections Library
4. JTB Steel Utility
You can download completed User Guide from our web page: http://JTBWorld.com/JTB-Steel. It gives installation instructions, explains how each function works, answers most common questions, gives all terms and conditions, etc.
Screenshots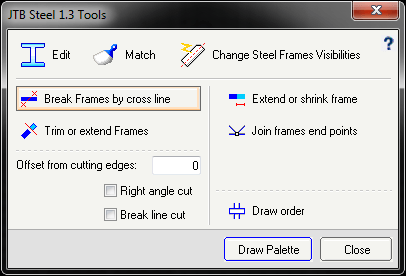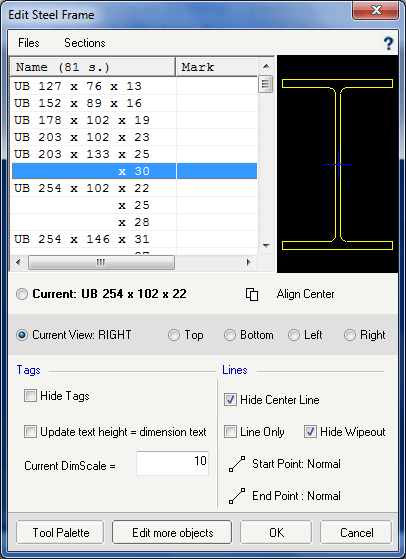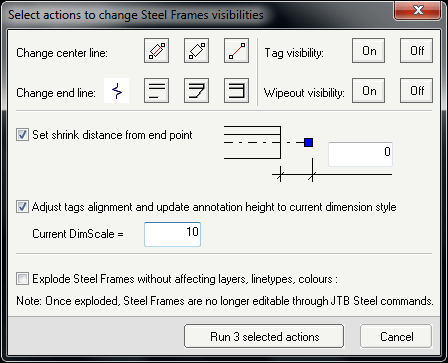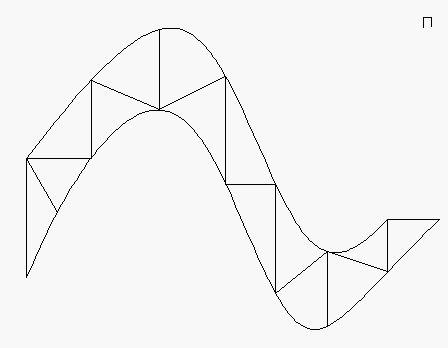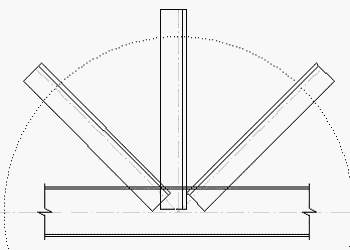 Installation and Uninstallation
The installer is a custom installer compiled by JTB Steel. You may need to restart Autodesk® AutoCAD® to activate the plug-in.
To uninstall this plug-in, click to Start > All Programs > JTB Steel > Uninstall JTB Steel or Control Panel > Programs > Programs and Features (Windows 7/8) or Control Panel > Programs and Features (Windows 7), and uninstall as you would any other application from your system.
Additional Information
You can use only JTB Steel trial license with limitations. Contact us to purchase license(s) to experience the full functionality.
Known Issues
In Win32, when no VBA installed, Draw and Tool palette are shown as modal dialog windows. In Window 64-bit, this 32-bit software run pretty slower. While any modal dialog is active, please don't click to AutoCAD screen. Minimize all other application windows is also recommended. In Win32 bit, AutoCAD 2013, if VBA installed, an error beep sound invokes after AutoCAD shut down.
Version History
1.3
Minor changes in texts and support links. No change in version number.
1.3
Add hatched property to steel sections Fix issue in AutoCAD 2015, 2016, Windows 64 bit: error when changing steel frame section.