About | Download | Newsletter | System requirements | Purchase | Documentation | Version History | License agreement | Customers
About

Do you use a borrowed network license and want to prevent the "License Borrowed" message from showing up every single time you start Autodesk® AutoCAD®?
[The license on this machine has been borrowed from a license server. You can continue to use this product during the borrow period without a connection to the license server. The borrow period for this license expires on: … To access the product again after the license expires, you must reconnect to a license server.]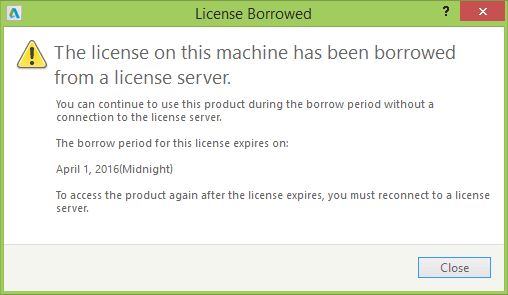 With this freeware for AutoCAD and verticals it is possible. It will automatically close this dialog box for you.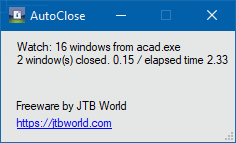 This dialog box by AutoCAD or Autodesk Desktop App will also be closed: AutoCAD requires 1024 by 768 resolution or higher to run. To resolve this problem, you should increase your resolution.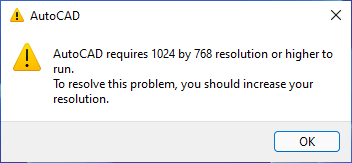 System requirements
Operating system: same as the CAD software is running on.
Compatible with Autodesk Desktop App, AutoCAD. Works with all flavors/verticals based on AutoCAD like AutoCAD Architecture (ACA), AutoCAD Civil 3D, AutoCAD Electrical , AutoCAD Map 3D, AutoCAD Mechanical, AutoCAD MEP (AMEP, ABS), AutoCAD P&ID, AutoCAD Plant 3D, Autodesk Advance Steel.
Contact us if support for other CAD software is needed.
JTB World is an Autodesk Authorised Developer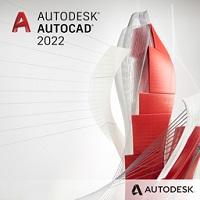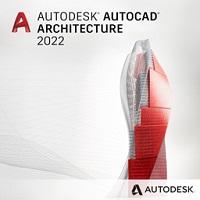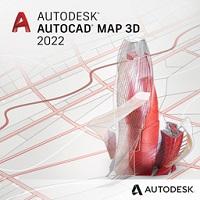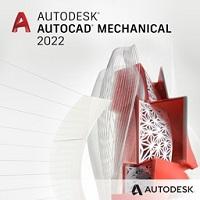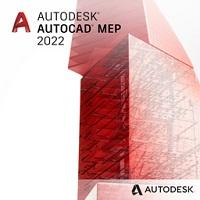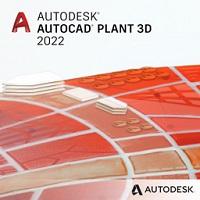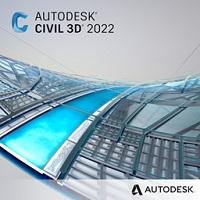 Documentation
The installer creates a shortcut entry in your Start menu Startup group to automatically launch the application when Windows starts. This ensures that you never have to dismiss that dialog ever again - even on your first AutoCAD startup of the day.
You can minimize the app and it will run in the background as an icon at the Window Tray.
Version History
2022-12-19 - version 1.0.0
License agreement
The license agreement is found here.
If you want other features added feel free to contact us with your wishes.