About | Download | Trial | Newsletter | System requirements | Purchase | Documentation | Support | Version History | License agreement
About
JTB License Manager is a License Manager affordable for small and medium sized software development companies. Perfect choice if you are a startup. 
Do you want to offer your customers time limited trials and/or functionality limited trials, single licenses (node-locked) or network licenses? What license model do you need? 
Do you develop apps for Windows using VBA, .NET, C#, VB.NET or AutoLISP? 
Do you develop apps that runs as Add-ins on AutoCAD or BricsCAD? 
JTB License Manager is a proven product used by JTB World for our apps for many years and upon request we now offer you access to it. Want to see it in action? Download a trial of SSMPropEditor or any of our other apps. 
We allow you to brand it with your logo and company name. The API is easy to use but have a lot of flexibility to fit your various needs.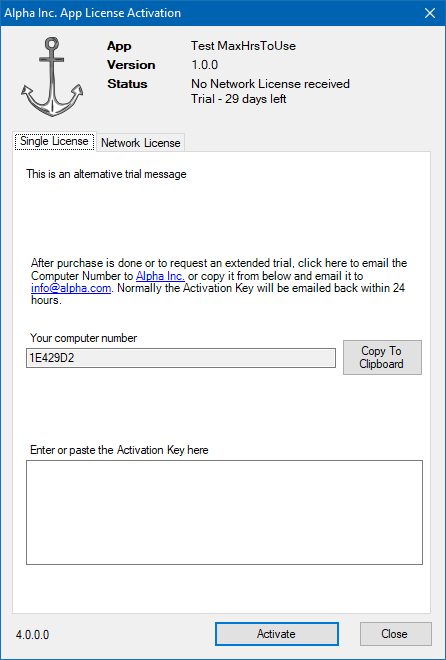 System requirements
Operating system - Windows 10, Windows 8.1, Windows 8, Windows 7, Windows Vista, Windows Server 2019, Windows Server 2016, Windows Server 2012 R2, Windows Server 2012, Windows Server 2008 R2, Windows 2008 Server. 32-bit and 64-bit operating systems are supported. Windows 2003 Server, Windows XP, Windows 2000 (SP2) might work but are not supported.
Purchase
We know how it is to be a developer and for this reason we don't have a high upfront price but offer subscription of JTB License Manager. The price is not either related to how much our product is used or for how many your customers are. We want it to be affordable for you. 
You can try the product first to make sure it fills your needs. Full support is provided during the trial period.
The initial purchase includes; usage, installation support, support, upgrades and bug fixes during the first year.
Subscription including upgrades and support is available on a yearly basis after the first year. Subscription is mandatory as long as this product is used. The price can change from year to year as the money value is changing and due to currency exchange factors.
Contact us for a price quote by sending an email to info@jtbworld.com. 
Payment methods
If your company is tax exempt note that BlueSnap does not currently offer a way to prevent tax from being charged on orders. We need a copy of the tax exempt certificate to refund the tax if already paid.
Available payment methods depending on country where payment is done from: Local Bank Transfer (Canada), Wire Transfer to Canada, Interac e-Transfer, Cheque (to Canada). Via BlueSnap (Global Payment Gateway) these methods may be available (not a complete list as it is updated from time to time by BlueSnap): Credit card (Visa, Master Card, American Express, Discover, Diners Club, JCB, Carte Bleue), PayPal, Local Bank Transfer, Wire Transfer, ACH, Google Pay, UK Direct Debit, Smart Debit, Real-time Bank Transfer, Electronic Check (ECP), Apple Pay, Skrill (Moneybookers), WebMoney, Sofort, Giropay, iDeal, ENETS and Alipay (SEPA (Single Euro Payments Area) Direct Debit, PaySafeCard, Ukash, cashU, Boleto Bancario, Boleto Bancario can be made available upon request) - Refund policy
If you decide to purchase we will send you details so you can make a bank wire transfer or we will send you a hyperlink to a secure e-commerce web site that will handle the purchasing.
Email the computer number as reported in License Activation and you will receive a license key to unlock and register this product after the purchase is done. 
If you need to purchase through a reseller see this link.
Documentation
Branding your way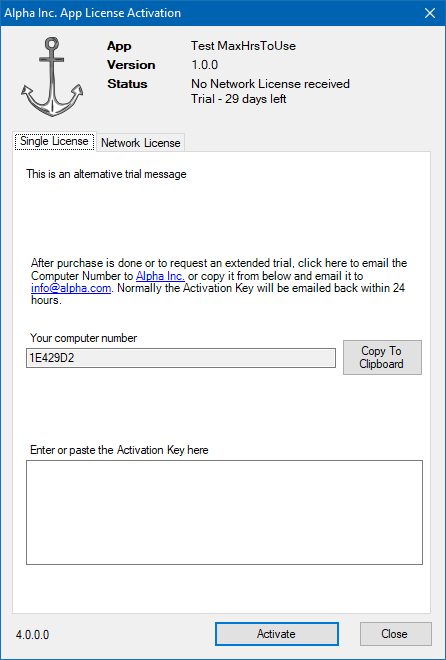 Generate license keys or license file to your customers with our easy to use Excel based license generator. 

Provide your customers network licenses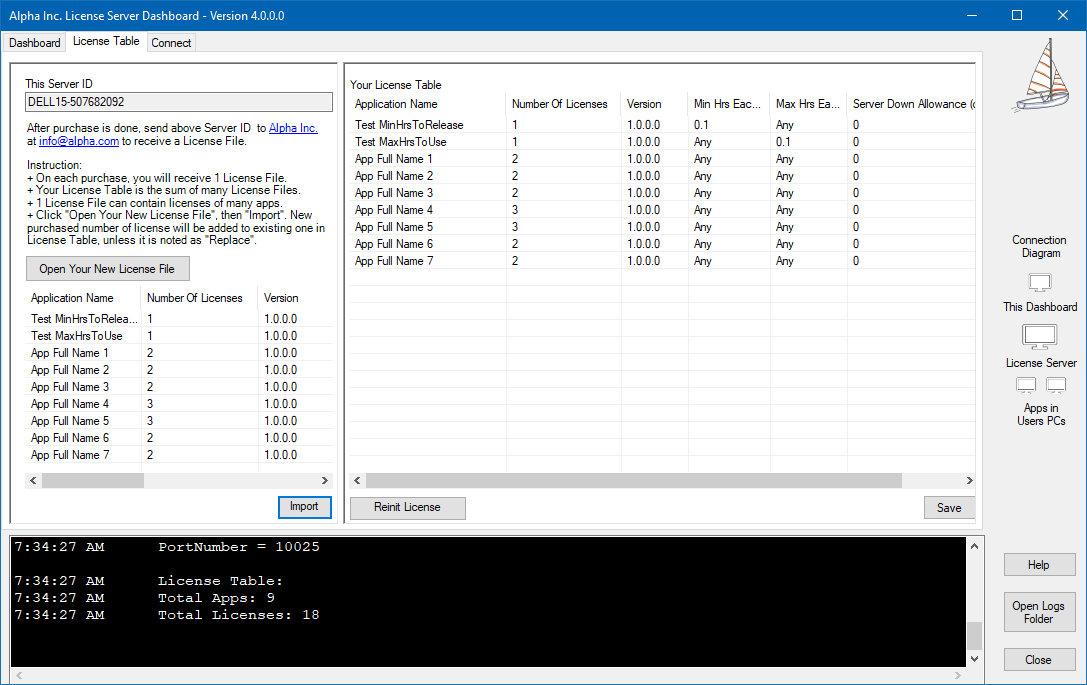 AutoCAD support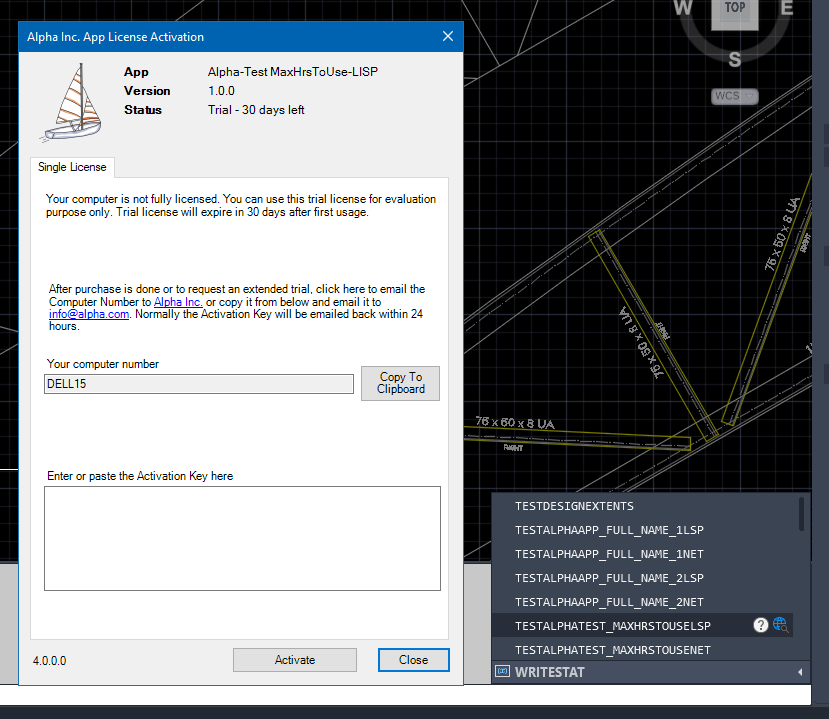 BricsCAD support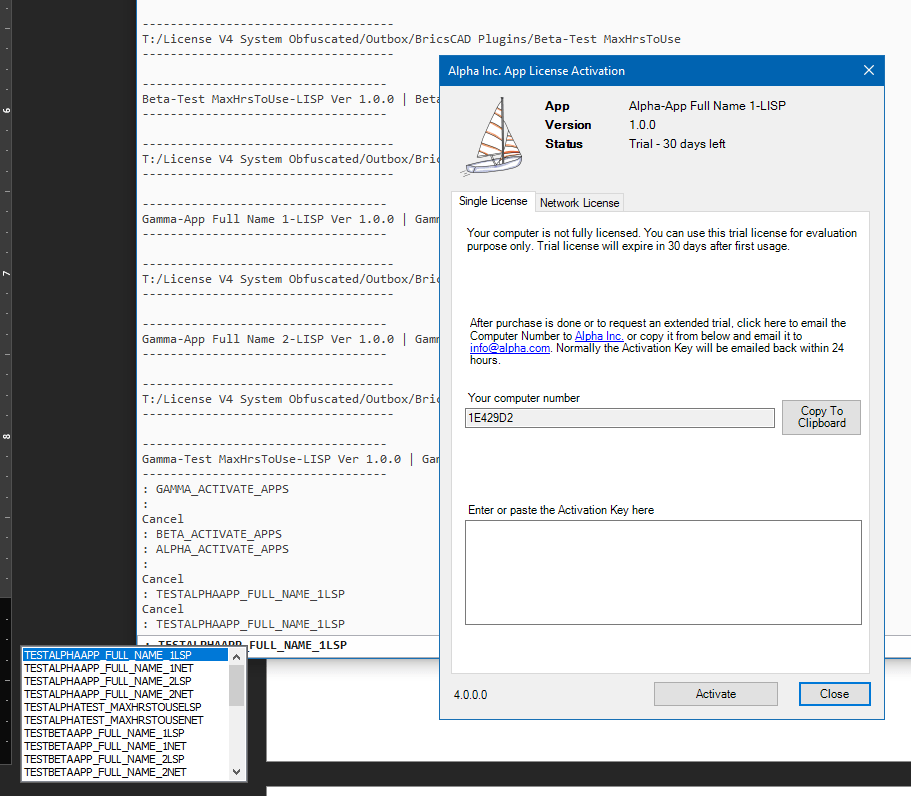 Support
JTB World regards customer support high and if you consider purchasing our software we will support and guide you for free to be able to run and try it fully.
For any support questions, feature request or feedback feel free to contact us.
Support is most often provided via email. Skype, phone, web-meeting are also available if needed.
Most often support is given within 24 hours even though we cannot guarantee it.
Version History
2021-10-23 - version 4.7.0


Can now handle if email software makes a minor modification of the license file when received.
Various improvements.

2021-07-17 - version 4.6.2


License Server: If import license file, replace existing one with zero license number, the app won't show again in the list. This is the case a client upgrade an app to new version, and the old one is obsoleted.
License Server Dashboard: Reset button: if the License Table has been changed, it will ask to save change before reset or not. If no save, the reset process is like a reopen License Table and discard all recently imported License files. This is for some client misunderstanding the Reset button as same as Save button after import License File.

2021-03-22 - version 4.6.1


There is new License File Generator.exe to generate license per user with
ServerDownAllowance greater than zero.
Now, for network license per user, the ServerDownAllowance is no more suppressed. It is up to developer to determine to allow it or not, and how long.
work with the appcode version > 1
add log tell about there are n license for the older version of the app found, which are not available for the new version of the app.
fix bug in license per user which unlock the license before the last PC of user has returned it.

2021-03-12 - version 4.5.1


Fixed temp file bug in License V4.dll.
Upgraded logging functions.

2020-11-01 - version 4.5.0


Improvements of how to lock a license to a user or host.
Improvements to the usage log.

2020-10-05 - version 4.4.0


Resolve the dynamic IP issue.

2020-07-05 - version 4.3.0.1


Licensing update with encryption compliant with Federal Information Processing Standards(FIPS).
Bug fix for network licenses where Unknown could show as PC name in the License Server Dashboard.
New format for usage log. 

2019-12-09 - version 4.0.0


First public release (used by JTB World for many years)