Product Description
Easily manage loading lisp files from your AutoLISP library with JTB Lisp app for AutoCAD.
You probably have a lot of lisp files that you want to load easily in AutoCAD. JTB Lisp can make this easier.
You can open JTB Lisp window within AutoCAD, or as stand alone application from Start > All Programes > JTB Lisp > JTB Lisp Library.exe (WinXP or Win7)
Click "Open folder" to open JTB Lisp library in Window Explorer. Copy your AutoLISP (Visual LISP) files (*.lsp, *.fas, *.vlx) to this folder. Create your sub folders to well manage your files.
Return to JTB Lisp window and click "Refresh" to update the tree hierarchy view and recompile the library startup loader lisp.
All lisp files found in marked folders will be loaded to AutoCAD start up everytime drawings open.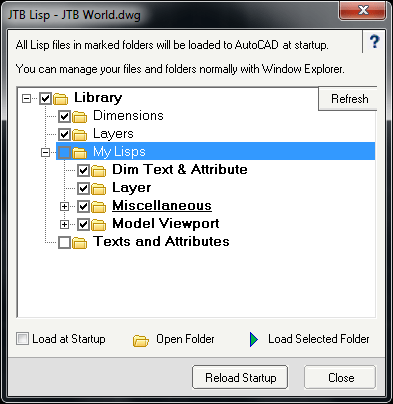 Please contact us with your interest in JTB Lisp or if you want support for other CAD products like BricsCAD.