Product Description
To launch the app, use the following command(s)
SETRESET

 Sets all styles, settings and system variables to be cloned or set from a certain drawing
Reset

 Resets the current drawing to the preset styles etc by SetReset
The "SetReset" is password protected. A Company password needs to be set the first time of use. By entering this password a user can, if allowed, set his settings.
All can be set back to factory settings by entering "JTBWORLD" as a password.
By setting (browsing to) this standard drawing ("using the SetReset command") the following objects will be cloned from this drawing:
• Layers
• Line Types
• Dimension Styles
• Text Styles
• Table Styles
• Mline Styles
• Multileader Styles
• UCS 
• Views
• Plot Styles
• Page Setups
• Visual Styles
• Materials
• Blocks
• Groups
• Annotation Scales
• All (Except textual) System Variables

By typing "SetReset" or pressing the "S" button a user form will appear. By browsing to the drawing which contains the objects you want resetted, the program will be synchronized and the "Reset" program is ready to be used. Annotation scales have to be added once by hand (they will not be synchronized).
By typing "Reset" or using the button the drawing opened in AutoCAD will take these styles or features, cloned from the preset drawing.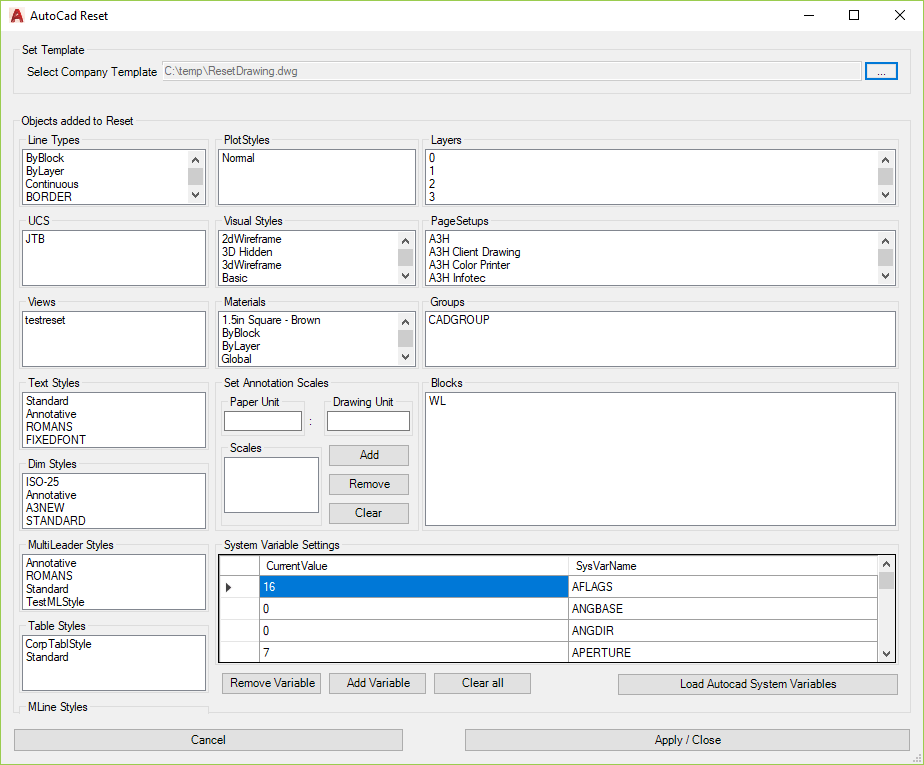 System Variables using text, such as ON/OFF do not currently work in this program.
Please contact us with your interest in JTB AutoReset or want support for other CAD products like BricsCAD.