About | Download | Newsletter | System requirements | Purchase | Documentation | Version History | License agreement | Customers
About
Enhance Your User's Experience with the our DWG Infotip Shell Extension.
Show the DWG properties as an Infotip (tooltip) in Explorer or even from file dialog boxes within AutoCAD.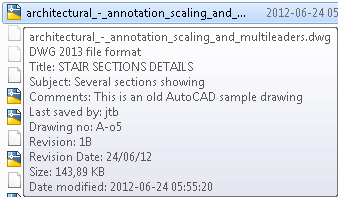 Use DWGPROPS in AutoCAD and add information in the Summary or Custom tabs and it will show up just hovering above a DWG file.
The Infotip will show the version of the DWG file, file size, date modified and most property information.
PROPULATE allows quick, automated population of the Drawing Properties dialog data fields.
No need to have AutoCAD installed. That means that everyone at your company can see this information.
No need to open the drawing to know information like revision and other valuable information in the drawing.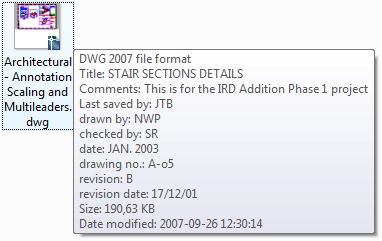 The freeware version is showing the DWG file format and title.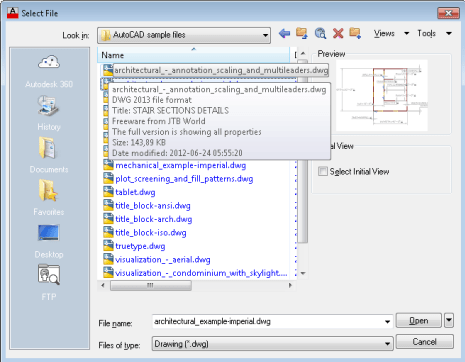 Download
The following download is a freeware version that also can be used for trial purpose. Only the DWG version and title shows. The full version will show all properties.
DwgInfoTip can be downloaded and installed as an app from the Autodesk App Store site. Purchase is also available through this site.

If purchase has been done via Autodesk App Store the download is available on the Autodesk App Store My Downloads page. Sign in with the same account used when purchasing.
Contact us for downloads of full version if you are a customer.
System requirements
Only DWG files in 2007, 2010, 2013 and 2018 file format shows property information. If there is need to support older DWG versions let us know. DWG 2007 is created by AutoCAD 2007 up to 2009 including verticals as well as other DWG compatible software. DWG 2010 is created by AutoCAD 2010, AutoCAD 2011 and AutoCAD 2012 based applications. DWG 2013 created by AutoCAD 2013, AutoCAD 2014, AutoCAD 2015, AutoCAD 2016, AutoCAD 2017. DWG 2018 created by AutoCAD 2018, AutoCAD 2019, AutoCAD 2020, AutoCAD 2021 and AutoCAD 2022.
This works with DWG and DXF files edited with applications like AutoCAD, Inventor, Revit, Dassault Systemes DraftSight, Caddie, progeCAD, Bricsys BricsCAD, IMSI TurboCAD, GRAPHISOFT ArchiCAD, GstarCAD, nanoCAD, MicroStation, ZWCAD+ and others.
Windows 7, Windows 8, Windows 8.1 and Windows 10. 32-bit or 64-bit.
Windows 2000, Windows XP, Windows Vista might also work but are not supported.
JTB World is an Autodesk Authorised Developer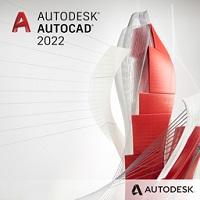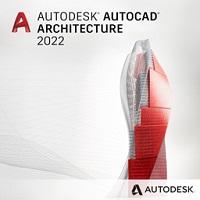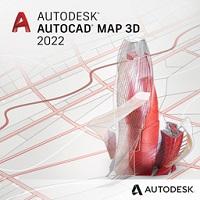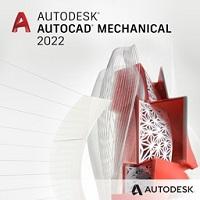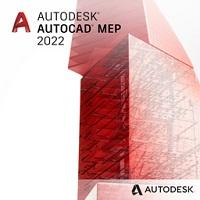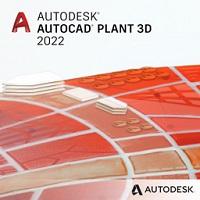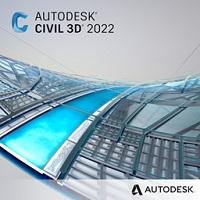 Purchase
10 USD for one license or less depending on the amount of licenses.
When your purchase is completed you will get an email with a link to the download.
If you have really many users that you want to give access to this software we can discuss a discounted price based on your particular situation. Educational discounts available.
The license is perpetual. Support and upgrades is included for a minimum of 2 years after purchase. If you have more than one computer and you are the only user of the application one license is enough. 
If your company is tax exempt note that BlueSnap does not currently offer a way to prevent tax from being charged on orders. We need a copy of the tax exempt certificate to refund the tax if already paid.
Available payment methods depending on country where payment is done from: Local Bank Transfer (Canada), Wire Transfer to Canada, Interac e-Transfer, Cheque (to Canada). Via BlueSnap (Global Payment Gateway) these methods may be available (not a complete list as it is updated from time to time by BlueSnap): Credit card (Visa, Master Card, American Express, Discover, Diners Club, JCB, Carte Bleue), PayPal, Local Bank Transfer, Wire Transfer, ACH, Google Pay, UK Direct Debit, Smart Debit, Real-time Bank Transfer, Electronic Check (ECP), Apple Pay, Skrill (Moneybookers), WebMoney, Sofort, Giropay, iDeal, ENETS and Alipay (SEPA (Single Euro Payments Area) Direct Debit, PaySafeCard, Ukash, cashU, Boleto Bancario, Boleto Bancario can be made available upon request) - Refund policy
DwgInfoTip can also be downloaded, installed and purchased as an app from the Autodesk App Store site.

Documentation
Installation
To install run setup.exe.

Administrator rights are needed to install.

After installation restart of Windows is needed.
Usage
Use DWGPROPS within AutoCAD and populate with information.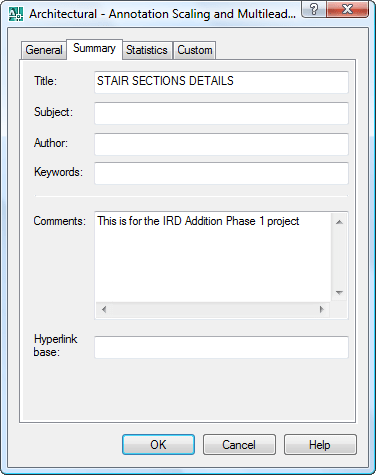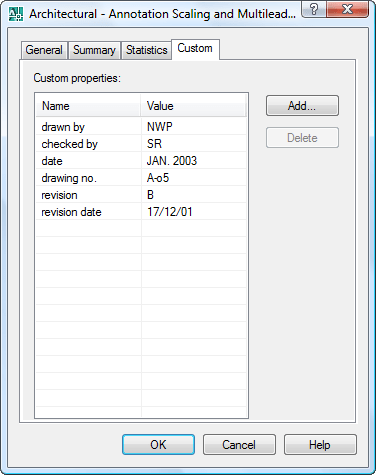 PROPULATE can be used to automatically populate for example attribute information from the title block into the properties. See this PROPULATE tutorial.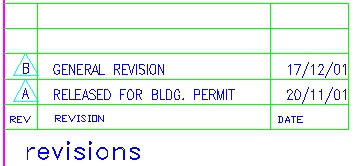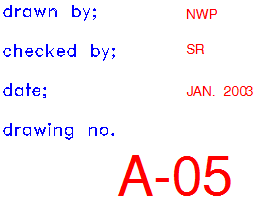 And here is what it look like in Explorer.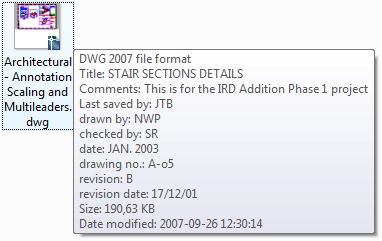 Version History
2019-03-28 - version 1.6 update

Added Autodesk® AutoCAD® 2020 support.

2018-03-22 - version 1.6 update

Added Autodesk® AutoCAD® 2019 support.

2017-03-21 - version 1.6 update

Added Autodesk® AutoCAD® 2018 support.

2016-09-20 - version 1.5

Updated installer that works more consistently than before.

version 1.4

Added support for AutoCAD® 2017

version 1.3

Support for DWG 2013 file format
License agreement
The license agreement is found here.
Customers
Automatic Software Pvt. Ltd.
Binsky
Engineering Concepts & Design, L.P.
Erdemli Proje Ltd. Sti.
Innophos
Mock, Roos & Associates, Inc.
Shambaugh & Son
Coggins-Hill
Contact us for any questions, wishes or comments.
See also the complementary application DWG Columns for Explorer to show the information in columns in Explorer.